About Millennium Kids
Millennium Kids are urging everyone to join them in bold strategic action to meet the Sustainable Development Goals (SDGs) by 2030.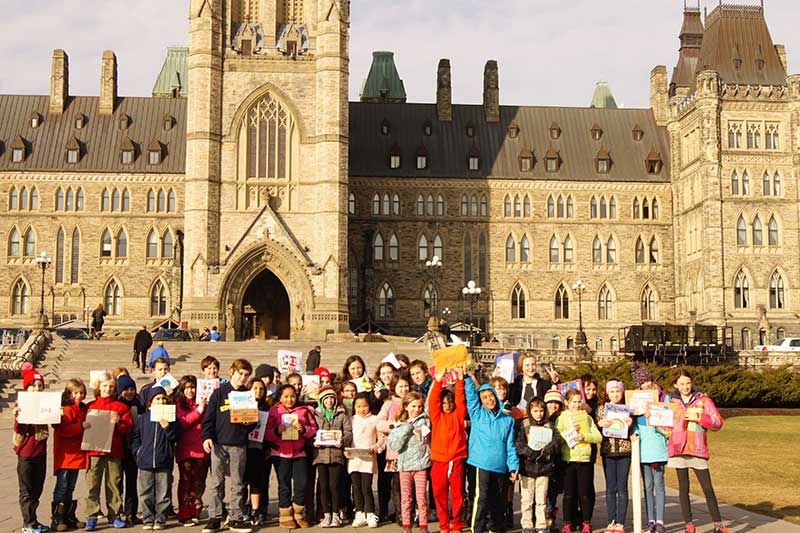 Millennium Kids encourages children and youth to focus their passionate justice efforts on inspiring their government to keep its poverty promises. It is time to hear the voices of our children and youth! Our innovative justice and advocacy initiatives are designed to engage both interested students/families and classrooms/schools/diverse faith communities. We foster relationship between children and youth and their local members of parliament laying the groundwork for lifelong civic engagement for the common good.
Backstory
I first learned about the precursor to the SDGs, the Millennium Development Goals (MDGs 2000-2015) in November 2009. I remember my surprise that I had missed nine years of these historic and global anti-poverty goals (though I birthed our four kids since the adoption of the goals in September 2000). I was convinced that if Canadians knew Canada made this incredible promise in 2000 to "spare no effort" to fulfill the MDGs, in collaboration with 188 other nations, we would find a way to keep our promise. I also knew from my own children that school social justice clubs were spreading across our nation as social justice-mindedness increased in our youngest generation.
Justice and advocacy initiatives
Here are some of the creative ways Millennium Kids have increased awareness and advocated for the MDGs / SDGs across Canada:
Broadcast Millennium Kids public service announcements on national television networks
Recorded an MK anthem for our Download and Be Counted! campaign on the iTunes platform
Marked #1000DaysToGo on the MDGs with a student event at the Glenn Gould Studio, CBC Building, Toronto and a twitter campaign in collaboration with organizations in UK and Germany 2013
Delivered Millennium Kids MDG Petition to Parliament 2014 asking the House of Commons to keep Canada's MDG promise and allocate the promised 0.7% of our Gross National Income to do so
14-yr-old Millennium Kid spoke at the Micah Summit on the MDGs at the UN Headquarters in NYC 2014
Nine MKs were invited to speak to MPs at an Alternative Committee Meeting on Parliament Hill about the urgency of keeping our MDG and 0.7% Official Development Assistance promises in 2015
Hosted a Live Below The Line $1.75 supper at Toronto restaurant The Depaneur to raise awareness of global extreme poverty
Canada-wide #ChalkYourSidewalk ".7%AID" campaign during the international Conference on Financing for Development in Ethiopia July 2015
Millennium Kids' Lawn Signs calling 42nd Parliament to take action on poverty and climate
Encouraged children and youth to make handmade Welcome Cards for Syrian newcomer youth coming to Canada 2015-16 (40 MKs from 14 schools delivered 1600+ cards to Minister McCallum at Parliament Dec 9, 2015)
Millennium Kids participated in the United Nations Economic and Social Council Youth Forum 2015 & 2016
Vision & Mission
Vision
Millennium Kids are urging everyone to join them in bold strategic action to meet the Sustainable Development Goals (also known as the Global Goals).
Mission
Engaging the next generation to pursue the SDGs with passion.
Empowering youth to be SDG global partners.
Celebrating together our SDG successes.
Objectives
Increase awareness of the SDGs across generations
Catalyze innovative youth participation in fulfilling the SDGs
Mobilize tremendous public support for the SDGs
Celebrate citizen, organizational and government SDG efforts and accomplishments
Values
Hope, celebration, cooperation, generosity, courage, accountability, tenacity, integrity, diversity, equality, acceptance, kindness, and creativit.
Meet Our Director

Sara Hildebrand is the founder and director of Millennium Kids, a youth movement creating opportunities for youth to propel Canada forward to meet the Sustainable Development Goals by 2030. She is passionate about encouraging youth to use their voice for justice and the common good in the public sphere. Sara received her JD from the University of Toronto Law School and was called to the Ontario bar in 2000.
She was the national coordinator for the Interfaith Millennium Development Goals Events initiative leading up to the 2010 G8 Summit. This initiative encouraged diverse faith communities to gather together with their Members of Parliament in ridings across Canada to express the urgency of meeting the MDGs by 2015. Sara has also worked as Crown Counsel in the Criminal Law Policy Branch for the Ontario Ministry of the Attorney General. Sara was recently honoured as one of 100 Fantastic Canadian Christian Women Leaders for 2014. Sara lives in Toronto with her husband and four children.